Enjoy A Day On The Road To Hana
The Hana Highway or the "road to Hana" is simply one of the world's most scenic drives. Back in the 16th century it was ordered to be etched into the side of Haleakala by the many warriors and builders of Aliʻi nui ("ruling chief") Kiha-a-pi'ilani. Influenced by his father, King Pi'ilani's love of public works projects, he extended the King's Road out to Hana along the coast and then up through the Kaupo Gap. His father was responsible for uniting the east and west of Maui and in doing so gained great political prominence for both Maui and himself. He ordered the creation of:
King's Road or "Hono-a-Pi`ilani Trail" which was the first road to circumnavigate an entire island in the Hawaiian island chain
4 different types fishponds ("loko i`a") and one kind of fish trap ("loko `umeiki")
extensive island wide canal system to distribute water
the largest "heiau" (sacred temple) in all of Hawai'i, Hale O Pi'ilani, which still stands to this day
… and much more!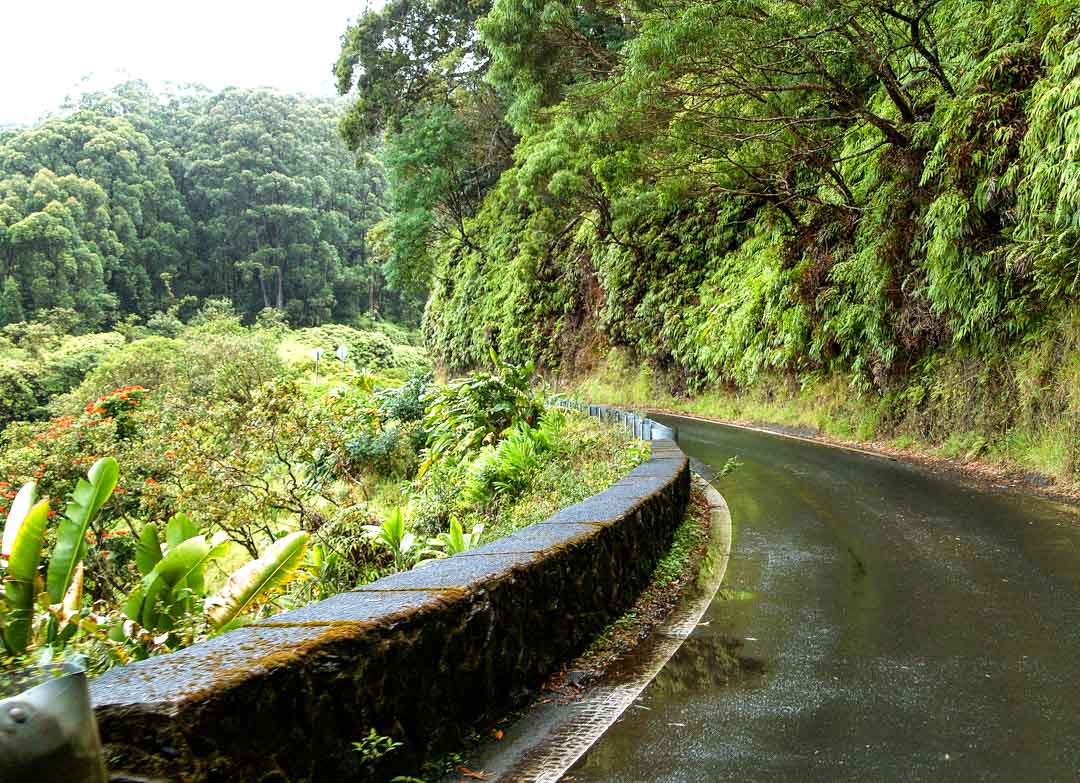 How Long Is The Road To Hana?
It's a journey that's downright deceiving. When checking the distance and drive time on google maps, it's only a mere 45 miles from Paia to Hana along the Hana Highway, but it takes at least 1 hour 40 minutes just to get there – and that's without encountering any vehicular resistance (traffic), uncooperative weather or taking time out for stops.
If you've never driven the road to Hana, you won't understand why there are t-shirts that say, "I survived the Road to Hana… and it was worth it!" A challenging 620 hair pin turns and 59 one lane bridges should be an indication that it's really a total survival challenge more than a race (and FYI: you need to accept that you probably won't get above 20 mph the entire way)!!!
Realistically, the drive is anywhere from 3-5 hours each way if you're not planning on breaking the speed limits or running people off the road (which can be additional hazards when driving it yourself)! And, keep in mind that the speed limit is 25 mph – and that's only   without traffic, jay walkers or "looky loos", which doesn't occur often.
Driving It Yourself

Truth be told, it's an exhausting drive – even if you have a second driver. Definitely don't attempt to drive it yourself on the last day or two of your vacation because you'll be exhausted from it when you arrive back at your hotel, due to several factors, like:
crowds (especially if it's high season)
traffic (whether from too many cars, mud / rock slide, or an accident)
waiting in long lines for lunch, trinkets or sundries
driving into the sunset on the way back (it's exceptionally bright)
no free bathroom stops between Paia and Hana (there is one paid one at a park but it's a $10 entry fee!)
no gas stations until you reach Hana (and then it's VERY expensive)
potentially dangerous driving conditions (flooding, mudslides, rock slides and distracted drivers)
What To Bring
People who have never driven the road to Hana often make the mistake of thinking, "we'll just pick up whatever we need along the way". Well, once you get past Paia, you won't have many, if any, opportunities to get supplies, much less go to the bathroom, until you reach Hana – and once there you can expect to pay nearly double for anything you might buy. At last count, there were two general stores and two gas stations in Hana, but be aware because they close early and the sundries and gas are extremely pricey. So, if you're driving yourself, don't forget to bring:
a towel
bug repellent
"reef safe" 30+ sunscreen (anything less is a complete waste of money)
a hat or other clothing to protect you from the sun
sunglasses (the glare from the ocean all day and the sunset on the way back can be extreme)
plenty of water (2 gallons per person for drinking and rinsing off)
lunch (unless you don't mind waiting in 30-45 minute lines)
snacks
a good camera
an excellent guide book
a lot of patience
a good sense of humor
Or better yet, just take a tour so at least you don't have to worry about the last 3 on the list!
Hana Highway Top Stops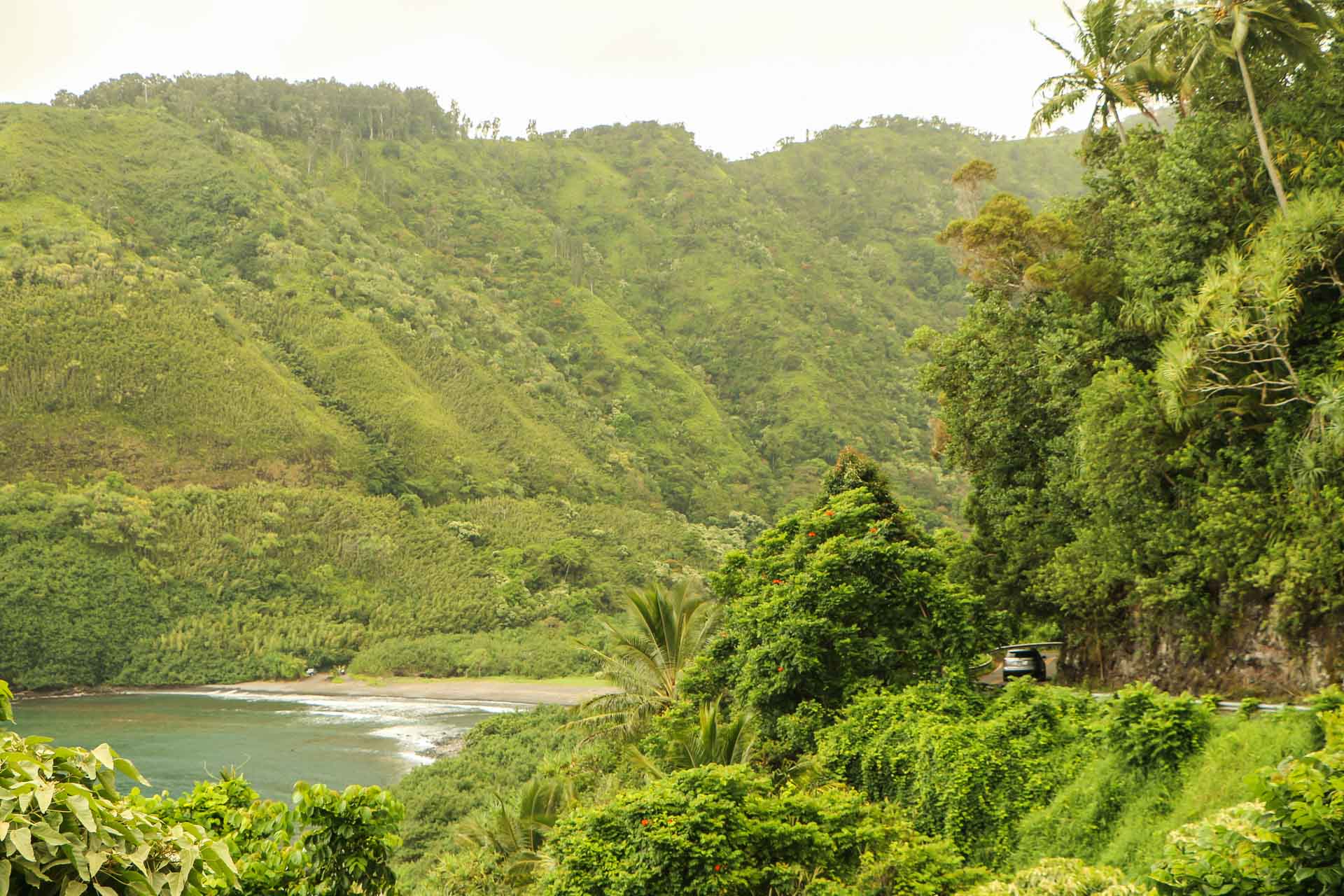 This is always the most exciting, and often the most frustrating, parts of the trip if you're driving it. The highway is so full of beauty that most tourists can't resist just trying to stop at the first few waterfalls, which often creates a serious traffic nightmare.
The road is narrow almost everywhere and any seasoned road to Hana driver knows there are a number of wonderful world-class waterfalls and other attractions farther down the road that the novice usually won't find. You have to know where to go and unless you're a local, you're probably not going to find them easily. In short, the guide books don't tell you where the best stops are, just the most popular ones.
So, unless you do some incredible research to find the exact locations and easily missed turn offs of these geographic gems, you can expect to get quite frustrated and then you'll be dealing with a lot of people (who also have been looking but have chosen to throw in the towel and you'll all return without seeing what you came to see).
Another problem is there are many drivers who have just two people in a car that could seat more, which just makes an already bad traffic situation worse. So, be sure to keep that in mind when deciding how you're going to go to Hana.
Without a doubt, there are many amazing stops on the Hana Highway. The flora is unparalleled with plants like the painted eucalyptus, hibiscus, protea, white ginger, bird of paradise and so much more! Some favorite stops are:
Eucalyptus Grove
Keanae Peninsula
Pools of Oheo (hiking is permitted, but swimming when weather permits)
Waianapanapa State Park
South Wailua Waterfalls
The Backside of Maui
Enchanted Gardens
Private Bathrooms
And so many more!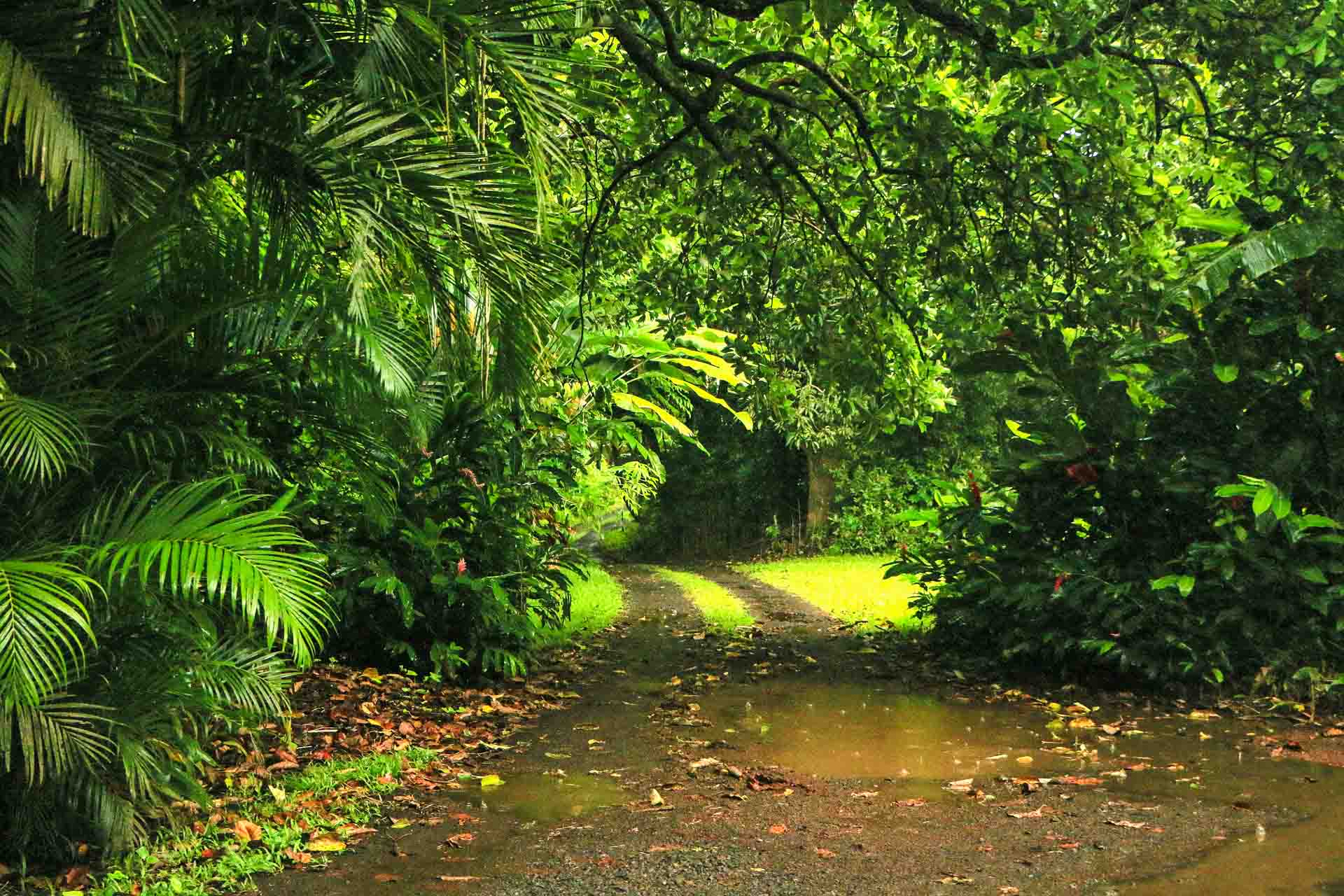 Why Choose A Road to Hana Tour?
Don't be surprised when your car rental agent asks you if you intend on visiting Hana. Most won't allow their cars to go to Hana, and if they do there is usually a hefty surcharge, so be sure to ask ahead of time.  And, don't be alarmed if they ask you to sign a waiver if you do decide to go so that they are exempt from liability.
The reasoning for this is more than justified. The number of serious accidents (many were fatal) involving tourists who became distracted by the road's unquestionable beauty and the potential of the extreme potholes along the backside of the island doing severe damage to the rental cars has become an overwhelming issue for Maui's car rental companies. Out of concern for the safety of their clients and their cars, they have taken action to discourage people from driving to Hana.
There are many benefits of taking a tour to Hana. Including:
fewer cars = less traffic = less road rage = better vacation
local guides/drivers will take you to some of the  less popular,  but better stops
private bathroom stops
pre-arranged BBQ lunch (no tour time wasted waiting here because you're seated and food is served quickly)
unlimited (non-alcoholic) beverages
exceptionally comfortable ride
excellent photographic opportunities (through extra large viewing windows)
no wasting time at mediocre stops
exploring the backside in custom designed comfort coaches (without blowing a tire!)
smaller groups
Guides
This is a specialized group of local, highly trained, safe drivers who are very knowledgeable about everything "Maui" and, best of all,  they're full of aloha! Many guests have said that the best way to learn about Maui is by "talking story" with your driver / guide. It's definitely a fun way to learn about the island.
The ancient legends, historical facts and a touch of local humor take you away to a time when things were simpler, albeit a bit more primal. The best guides consider it an honor to bestow the history of Maui to visitors. After many years of driving and showing guests the real Maui, a professional guide's main objective is still to make sure you see the best that the road to Hana has to offer so that you thoroughly enjoy the trip. You will instantly feel as if you're part of the ohana ("family"), because they love their job and it shows!