'Iao Needle Lookout Trail and Ethnobotanical Loop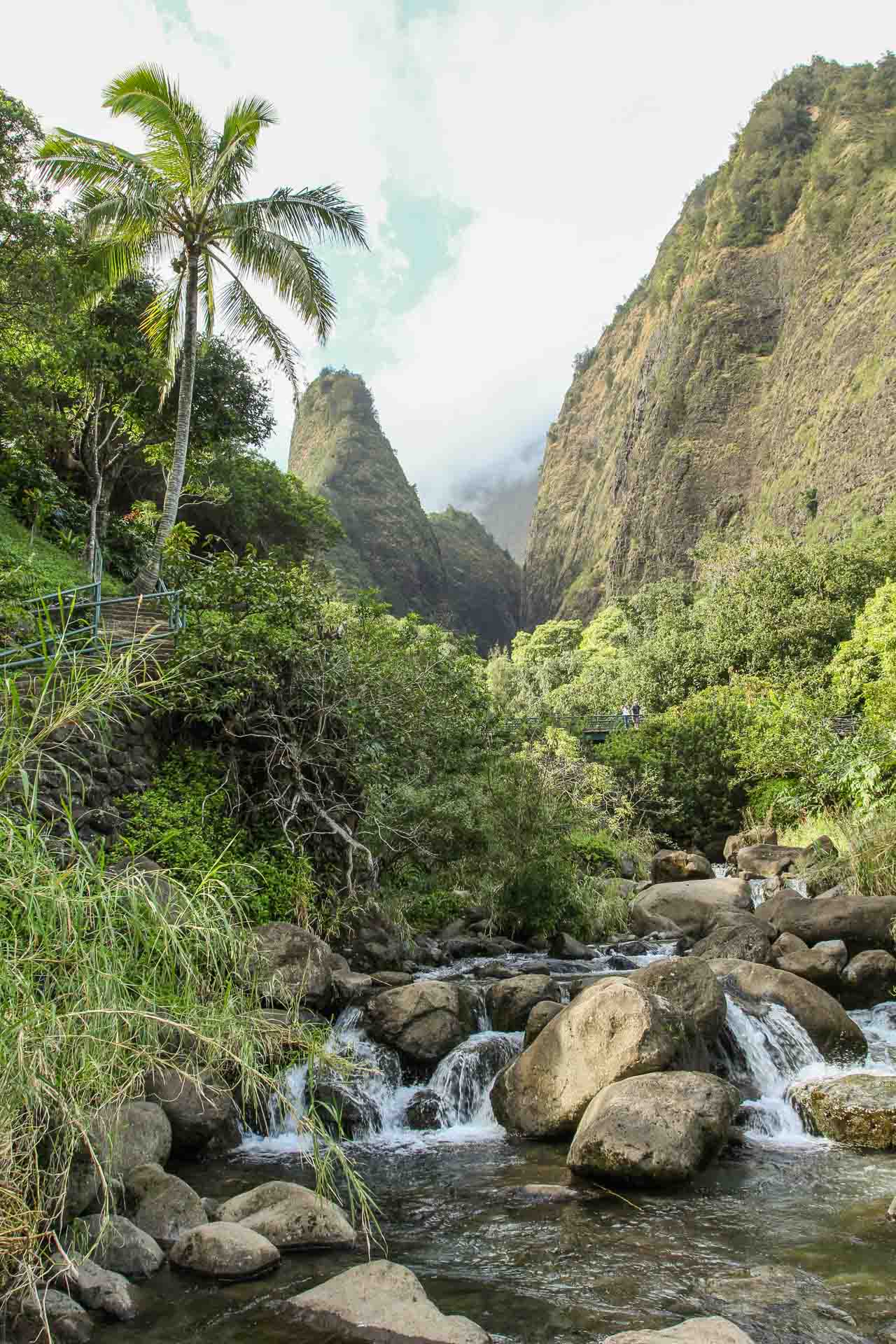 The Incredible 'Iao Needle
The 'Iao Valley's colorful past makes it almost impossible to not enjoy a lesson in ancient Hawai'ian history while being wowed by it's stunning display of exotic plants, footpaths, picturesque waterfalls and pools. There is no question that the 'Iao Valley is a favorite of locals and visitors alike. And although there is no access to the needle itself (it's location and access is on private land), there are 6.2 acres of amazing flora and fauna and .6 miles of paved trail which ends at a lookout which boasts a 360 degree view of the island.
A Little History
'Iao Needle isn't just an amazing natural wonder, it's a major historical landmark as well. The entire valley, including the needle, was declared a "sacred" (kapu) place by Kaka'e in the 1400 -1500 AD time period. Being a sacred place meant that during times of peace only royals were allowed to enter the valley. The ban on common people entering the 'Iao Valley was lifted in times of war due to necessity. On at least one occasion the valley and needle itself was used to mount a last stand to defend the area.
The plateau on top of the needle itself was used as a natural altar and an indispensable lookout. The needle is so tall it's often enshrouded by clouds, which is no surprise considering it's sporting an impressive altitude of 1,200 feet (370 m) above the valley floor and an intimidating 2,250 feet (690 m) above sea level.
The .6 mile paved trail is encompassed in green, lush foliage and a few hundred years have concealed all signs of the vicious and bloody battle which began at Kepaniwai (water dam) and ended with Maui's warriors attempting to make a final stand on top of the needle. Kamehameha's forces were victorious against Maui's warriors but due to other attacks on Kamehameha's holdings on the island of Hawai'i this was not the final battle to unite Hawai'i.
It was high drama in these islands during that time because during Kamehameha's quest to unite all of the islands of Hawaii under one ruler (himself), he was repeatedly pitted against Maui's King Kahekili, a man that many say may have been his own father! It is rumored that Kamehameha's mother spent time on Maui and during her travels there had a liason with King Kahekili (who already had several wives). Upon her return to her home island of Hawai'i she gave birth to Kamehameha.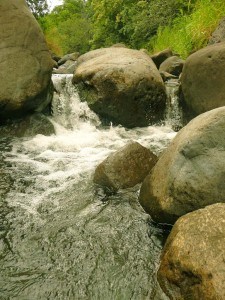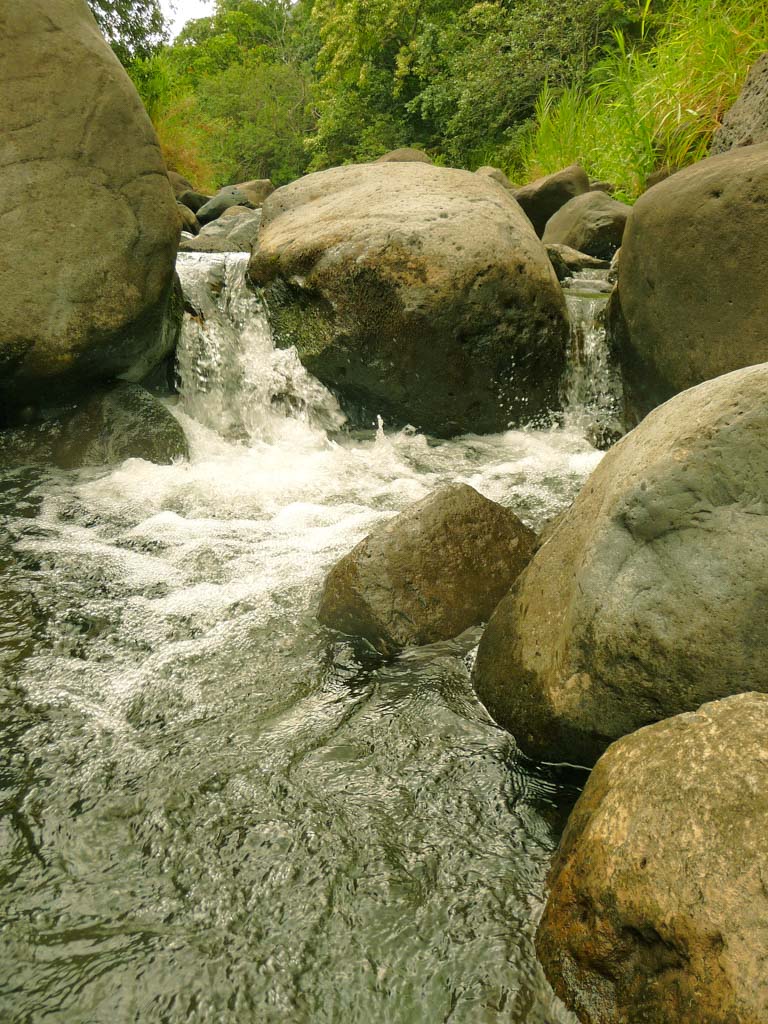 The massacre that happened here in 1790 was historically significant because it was the first battle on Maui that was fought and won with modern firearms. So many were slaughtered by the cannons and guns that the bodies dammed up the 'Iao Stream and made it run red.
Kamehameha confiscated the weapons from foreign ships and crew members he'd taken as captives. The prisoners, Isaac Davis and John Young, became "royal advisors" in order to remain alive. They showed him how to use the weapons to defeat his enemies and even operated the cannon themselves against Kahekili's forces at Kepaniwai, which probably helped them keep their heads for the long term. There were a few more battles in other parts of Hawaii but it wasn't very long before Kamehameha's goal of uniting all of Hawai'i became a reality.  And, it was all thanks to numerous guns, two cannons he named "Lopaka" and "Kalola" and two white men who prefered to keep their heads.
Considering that the needle is actually an ancient lava skeleton (aka: exposed basaltic core), it's quite fitting that the remains of hundreds of warriors have been found here, and also royals (ali'i) were laid to rest on these sheer cliffs for many generations.
Let your imagination go wild and spend a few moments reliving these ancient tales of high drama while exploring one of the most lushly beautiful settings on Earth and you will see why it's such a special place!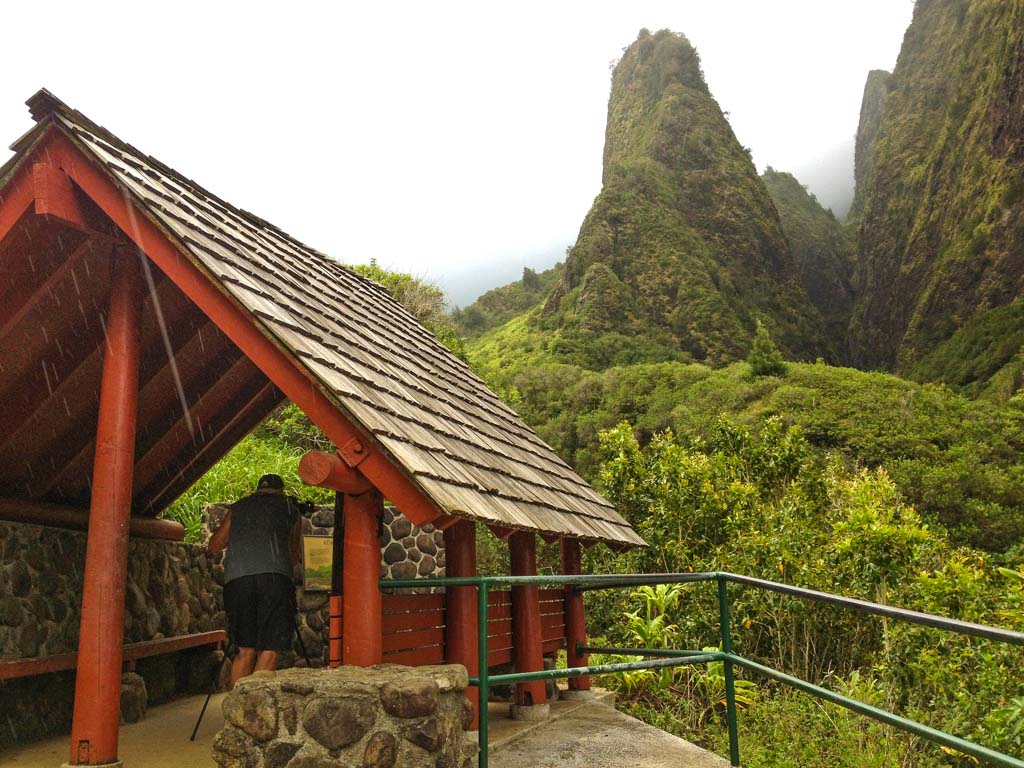 Why Is 'Iao Valley and the Area at the Needle SO Wet?
The lively green cloak which encompasses the 'Iao Needle (Kuka'emoku) is a side effect of this area being one of the wettest locations on Earth. The 'Iao Valley gets an impressive 386 inches (9.8m) of rain per year, which has continuously eroded the softer rock down to the core which is a harder basalt, causing it to form a natural spire that has become majestically sheathed in plant life.
The Weather
When visiting 'Iao it's very important to bring a rain jacket or umbrella, just in case. Many times you will arrive and it's sunny and within 20 minutes it will begin to rain. Also, the same can be said to occur in reverse so make sure you have the sunscreen as well! Bugs will also be an issue due to the extreme amount of rain that falls here.
So come prepared and if you don't like wearing the bug spray then light, loose fitting clothing that covers the extremities is highly recommended. And let us not forget footwear… the cardinal rule on Maui is if you're going to go for a hike, wear sneakers. It doesn't take but a small cut on the foot by volcanic rock to get a nasty tropical infection.
Bottom line is, it makes all the difference in your experience if you aren't prepared. So, make sure you're wearing the proper footwear, always have sunscreen, a hat, water, a snack and a way to repel bugs!
The Hike
There is a labyrinth of winding paved paths that wander through the lush vegetation, flirting with the 'Iao Stream which winds below the famed spired needle. It's a gently challenging 133 steps up to the lookout for your reward – a magnificent 360 degree view of Maui! Don't worry, even if you're just in OK shape you should be able to make it. It's worth the step workout!
No fear, Grandparents are a common sight at the top. Little kids might get a bit testy mid way, but if you take breaks and point out the flowers and other sights along the way it will go quite quick.
There is a paved path which loops throughout the ethnobotanical portion of the park is a must-see. The diversity of plant life is impressive, but be prepared to climb. The trail is only .6 mile but it ascends some 200 feet where there is a rain shelter at the lookout. It's a great way to see one of Maui's most beautiful and cultural treasures by foot, but make sure you bring your rain gear. The 'Iao Needle is the second wettest place in Hawai'i. It's open from 7am to 7pm daily and restrooms are on site.
Flora
Many exotic plant species are labeled and the entire area is definitely worthy of some award winning shots to make everyone jealous at home. Some fabulous flowering trees and plants you might have a tough time finding in other places on Maui can be found quite easily here. And, many are labeled, which is always helpful. Here are just a few of the trees and plants that are easily observed at the park:
banana
coconut
kukui
guava
cherry blossom
Christmas berry
royal poinciana
avocado
taro
ti
awa
watercress
heliconia
ginger
sugar cane
ferns

Getting to 'Iao Valley State Park:
Main Street in Wailuku forks off (to the right) to become 'Iao Valley Road (Rte. 32). 'Iao Valley Rd. is lined by lush, tropical foliage, high mountains and the stream, of course. The first parking lot is located at Kepaniwai Park and right next door is the Hawaii Nature Center. Keep going up to the 'Iao Valley State Park. GPS Coordinates: 20°52′51″N 156°32′42″W
Admission Times & Prices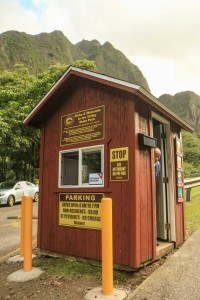 Hours are from 7 a.m. to 7 p.m. daily. Cost is $5 per car. Hawai'ian residents are FREE!
Amenities
** PLEASE NOTE: There is NO POTABLE WATER available at this site!! So, bring plenty!
Don't Bring:
drones (should it crash you may not be able to retrieve it since the valley is surrounded by private property and most locations are inaccessible!)
Do Bring:
shoes with a good grip (flip flops and sandals are NOT recommended)
drinking water (and plenty of it)
See Other Wonders Of Maui