Haleakala National Park
The creation of Haleakalā National Park in 1916 was within one week of the National Park Service's inception which is quite remarkable considering how slow government still moves today. Haleakalā is an International Biosphere Reserve and the park's rangers take great pride and care in assessing and assisting native ecosystems in this ever-changing volcanic environment.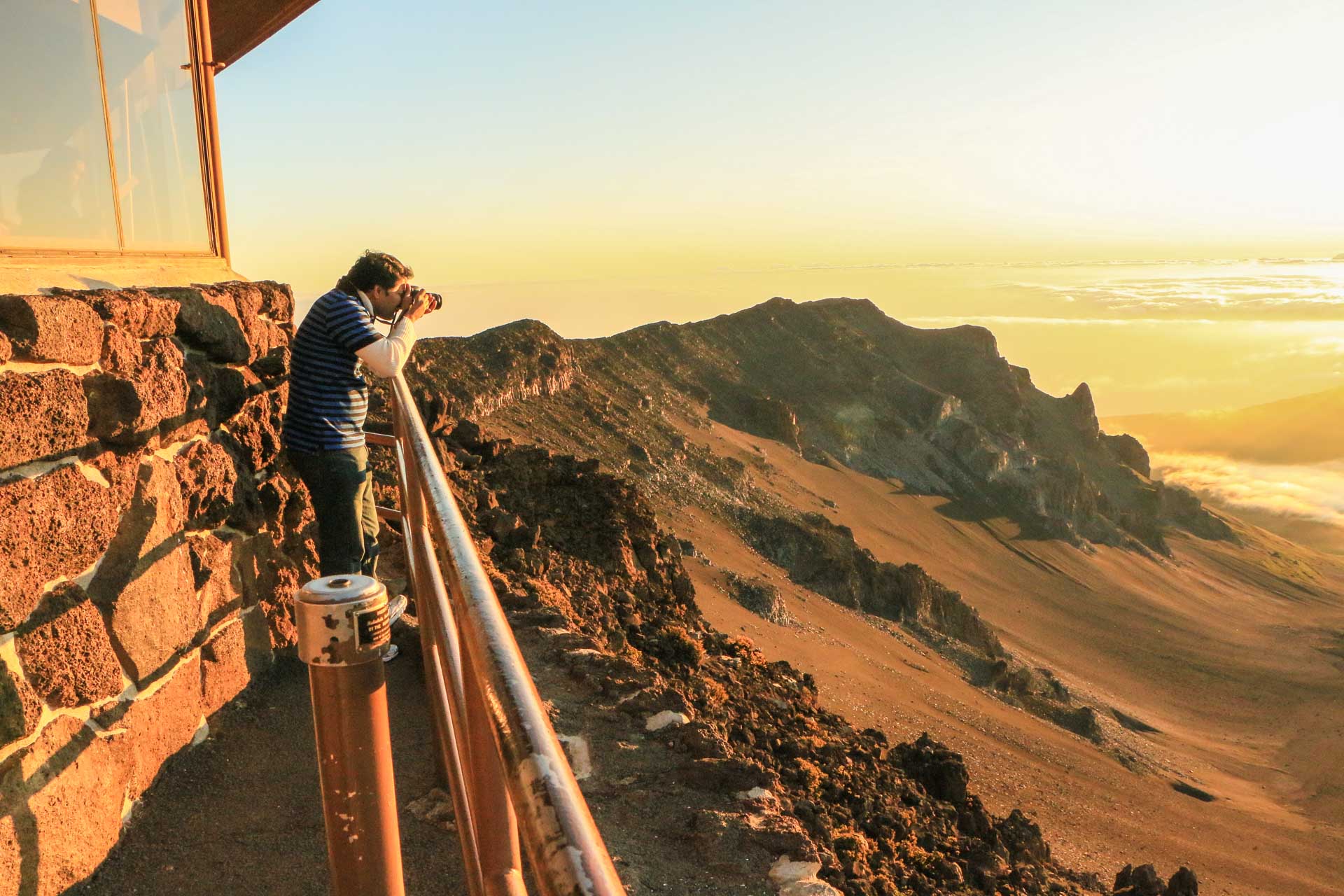 Using native Hawaiian customs and knowledge passed down through the generations in an effort to foster the continuation of the Hawaiian culture is of great importance. And, applying both ancient and modern day techniques to preserve natural resources is necessary to keep their traditions while improving conservation in as many areas as possible.
Mount Haleakala's Geological History
Maui's eastern volcano, Mt. Haleakalā, translates into "House of the Sun", and it would seem it is named so appropriately. Today, the summit peaks at 10,023 feet (3,055 m), which is more than one-third of the Earth's atmosphere! Interestingly though, it may have been as high as 12,000 feet (3658m) or so at one time.
In fact, many hundreds of thousands of years ago, the West Maui mountains, which now stand at just 5,787 feet (1764 m). It is known to the Hawaiians as 'Maui Komohana' with it's peak, Pu'u Kukui 'Candlenut Hill'. Yes, it may have been 12,000 feet or more above sea level and a whopping 30,000 feet from the seafloor at one time – but don't start worrying about it quickly rising or sinking into the ocean overnight. It took about 500,000 years for it to rise up. Earth changes can make volcanoes, mountains and entire mountain ranges rise and fall, and it usually occurs very slowly, over vast periods time.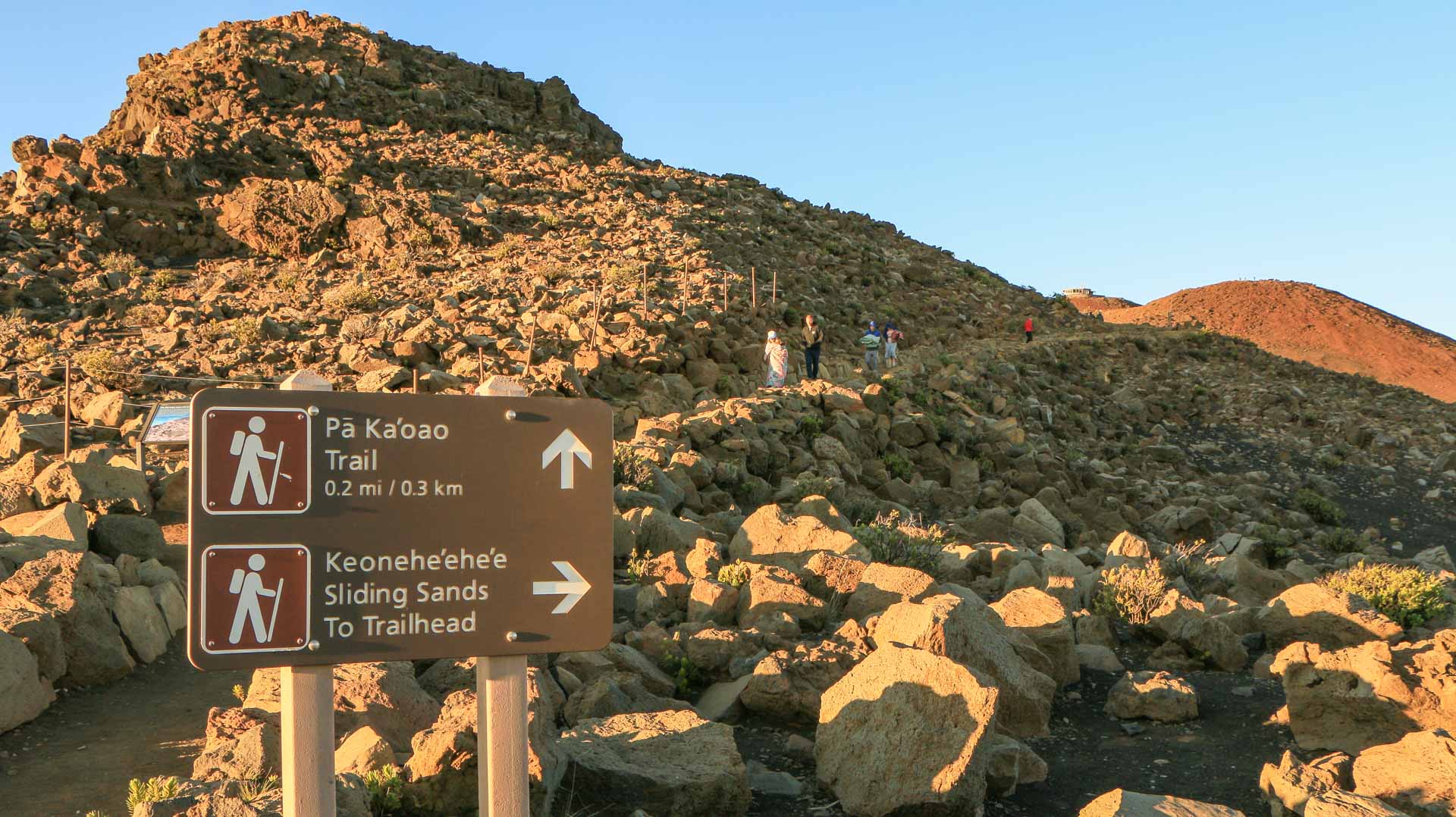 Maui's volcanic mountains are joined together by an isthmus, or valley, which is made up of layers of lava, ash and alluvium that slowly accumulated and joined the two peaks together.
The last 1000 years has seen Haleakalā more active than the previous 10,000 so it is still considered an 'active' volcano. Don't worry too much though, it's been at least 200 years and as long as 400 since the last major eruption near the coast by Mākena. Yes, volcanic activity does happen in Maui but fortunately none has occurred here recently.
Terrain At Haleakala Summit
Since Mt. Haleakalā's crater can fit an island the size of Manhattan in it's 30,000+ acres, there is a vast space which unfolds before you at the summit. It's dry… very, very dry. Not much grows in some parts of the crater but as you descend down a bit the green meets the lava rock and red dirt to welcome you back into the jungle. The crater is rocky in spots and there are trails through the park. Make sure you DO NOT WEAR SANDALS OR FLIP FLOPS!  Many tourists ruin the remainder of their trip by wearing flimsy, open toed shoes here. Lava rock is sharp!!!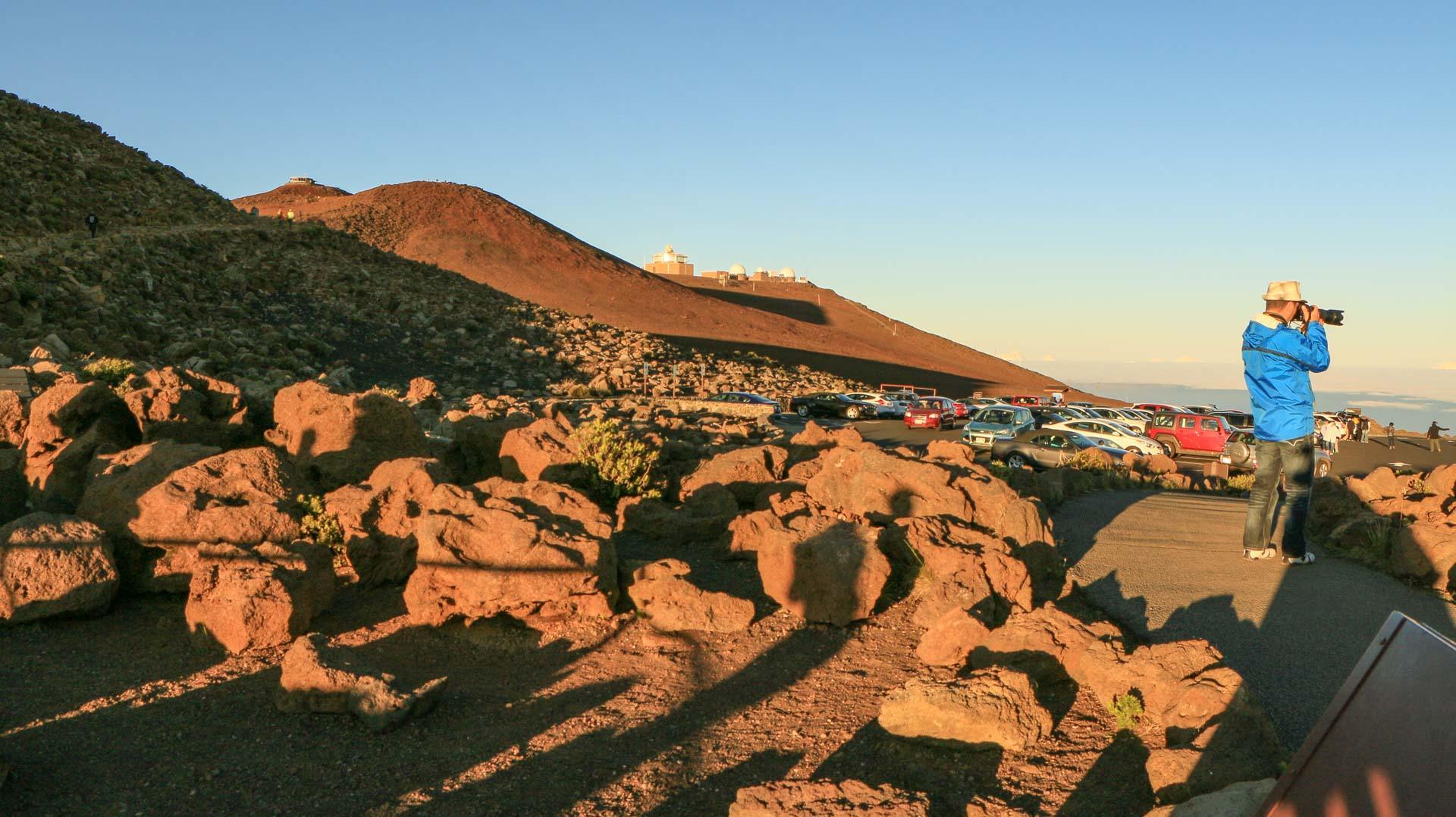 Haleakala – A Sacred Mountain
The sun is revered throughout the world by all ancient cultures. Every one of them has a legend about it's creation and specific rituals and sacrifices that needed to be made in order to please the sun god. The Polynesian cultures are no different and the legend of Maui and how he captured the sun with his noose or lasso was told far and wide throughout Polynesia during ancient times. The Maori, the native people of New Zealand who believe they came from Maui, were known to tell this tale as well.
Maui became restless and fought the sun
With a noose that he laid.
And winter won the sun,
And summer was won by Maui.
– Queen Liliuokalani's family chant.
Mt. Haleakalā is known to all Hawaiians as a sacred site. Small temples and altars dating back to 800 AD have been discovered inside the crater. Legend has it that demigod, Maui, lassoed the sun from here to slow it down to dry his mother's kapa cloth (fibers from bark that were used as clothing and sleeping mats). It is said that prior to Maui capturing the sun it ran across the sky too quickly to allow for daily chores to be completed in time.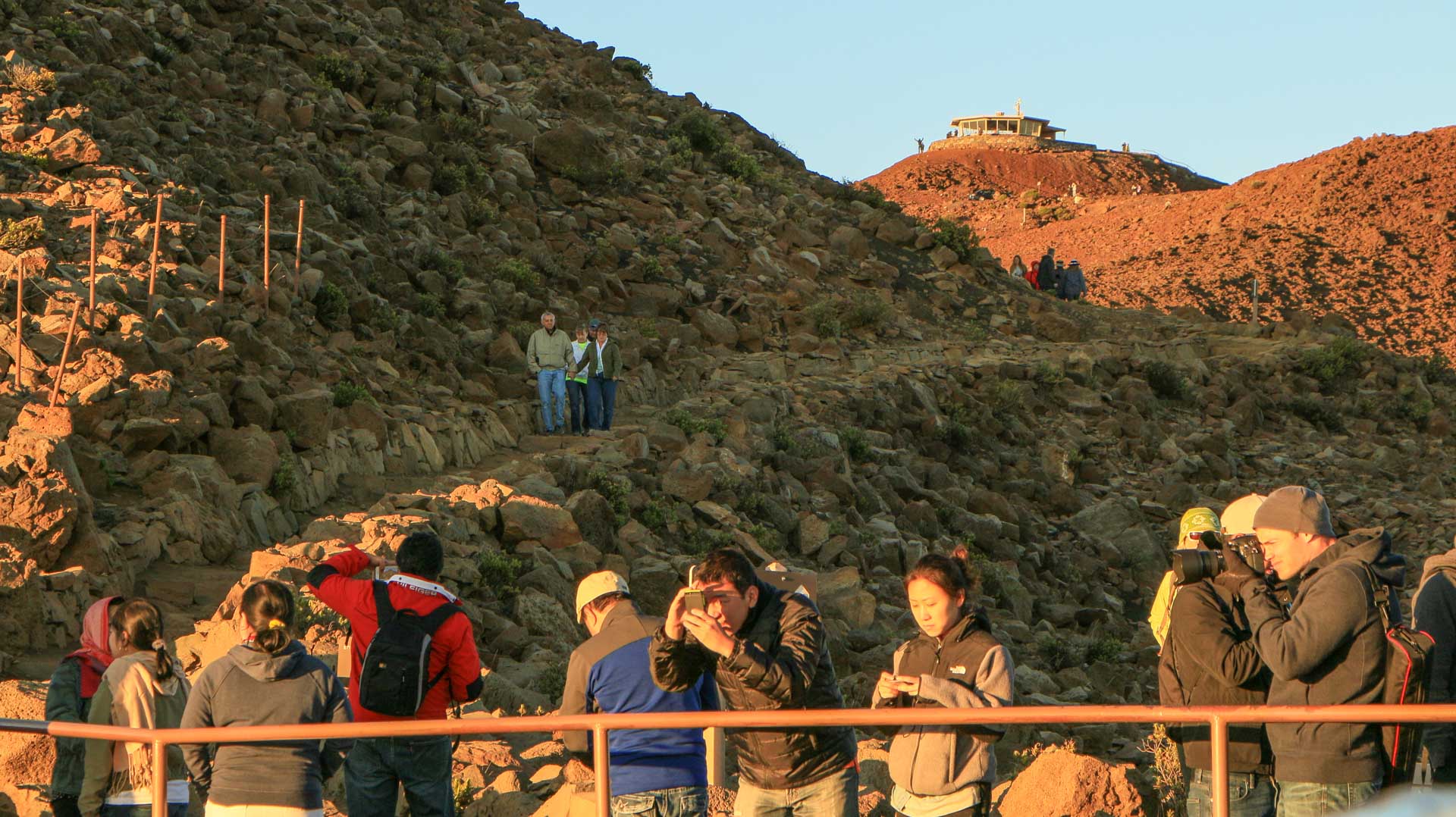 When to Go & What to Bring
Sunrise or sunset? Well, that all depends on whether or not you're a morning person… No matter, nearly every rising and setting of the sun from this perch is beyond description. Due to the elevation you must be prepared to deal with ALL sorts of weather at ANY time of day or night. So, be sure to bring:
proper clothes to shield you from cold, wind and rain if it's in the forecast (and no, that's NOT A TYPO!). Many a tourist has been disappointed when visiting the summit without proper clothing and regretted not listening to the advice volunteered by the park site and locals they took the time to consult before coming. Be sure to consult the weather sites for the predicted temps as right before dawn and after dusk the temperatures usually are BELOW FREEZING due to the altitude.
sunglasses because the wind can whip around so hard it becomes difficult to see because of the dust flying about if not wearing  so those are a must as well.
sunscreen because the elevation makes the sun much more intense.
water and snacks just because it's a LONG drive up and you WILL get thirsty and hungry.
durable shoes (and a walking stick) are great because it's sharp lava rock under your feet, so let's suffice it to say wearing wimpy shoes is NOT acceptable if you want to do any sort of looking around. Also, a walking stick is a great asset if you have balance issues, but make sure it's LIGHT. The high altitude can make even walking seem like a serious workout.
an inhaler should you use one. For those with breathing issues the high altitude can be a little bit of an adjustment and carrying your inhaler on you is advisable since you're at least 30 minutes from medical help of any kind.
Amenities
There are two visitor centers (where drinking water is usually available) but there is NO FOOD FOR SALE in the park.  Restrooms are located at the visitor's center.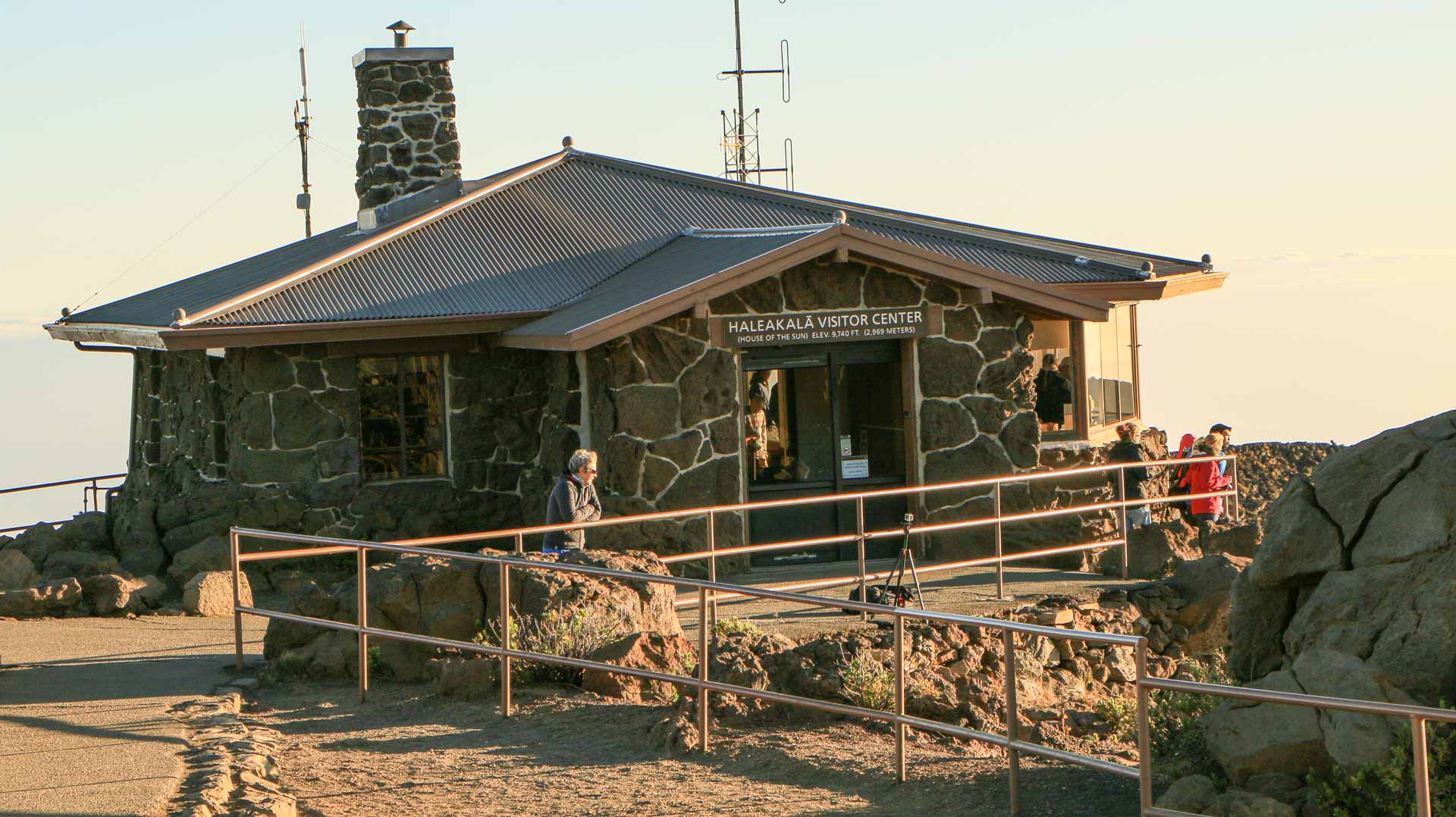 Words of CAUTION
The park is usually open year round but it's always important to plan your trip properly. Be sure to check the Park's site to see if there are any advisories or closures before you leave to take the lengthy journey up the mountain. It's never fun to find out once you are there that something you'd been interested in seeing has been closed but you didn't know because you forgot to check.
Passes & Fees
There are several options to help you plan a visit. Just click here for more information.
Map of the Wonders of Maui